| | |
| --- | --- |
| Posted on July 4, 2019 at 4:15 PM | |
I had a friend a few years ago who told me his wife played Roller Derby in Vancouver and that I looked like someone who could be good at Roller Derby.
Roller Derby?? You mean like 'Whip It?' Does that even exist in Saskatoon?
It did. The Saskatoon Roller Derby League. It didn't appear to be anything like 'Whip It', though.
Excited, I went to the season closer game in 2015 to see what Roller Derby was all about. In the stands, I watched those badass men and women (it was a co-ed game) fly around the track on eight wheels. They got knocked down and they got back up and kept going. I wondered….Why am I not doing this already?!
Fresh Meat
I joined Fresh Meat in 2016. Before I even started, I committed a no-no and bought my Fresh Meat package. I had never been on skates before, but I knew I was going to love this.
I was at home on roller skates. I loved skating. I loved being part of a team.
Halfway through Fresh Meat training, in a series of unfortunate events while outdoor skating, I broke my leg. Yes, it was broken, but I wasn't about to let it stop me. I continued attending Fresh Meat practices to encourage my fellow Freshies and to try to absorb the skills via osmosis, preparing for my return to Fresh Meat the next year.
I got back on my skates as soon as I could walk without a cast and crutches. I faced and conquered the fear of skating again.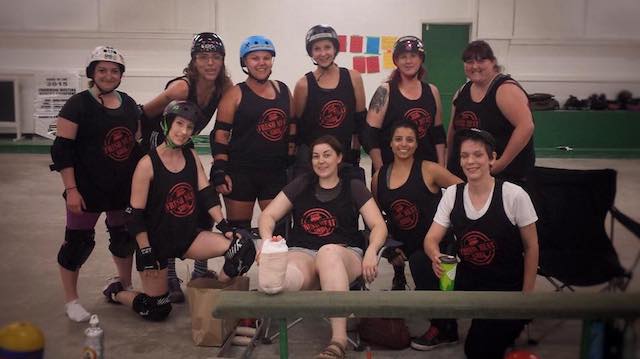 Fresh Meat…Again
I came back to Fresh Meat in 2017, falling in love all over. I made it. I bench marked. I made my 25 laps in 5 minutes which would allow me to play local games. It wasn't enough to join the Killa Bees travelling team, though. I needed 27 laps in 5 minutes for that.
Graduating to senior practices was scary. It was daunting to join those athletes I had admired years before. I felt inadequate standing next to them (especially when I fell down while standing in one spot), and I would imagine my fellow Freshies felt close to the same.
There were a great many of the senior skaters who wouldn't let us stick together in our little rookie group, though. They paired us with mentors and insisted we integrate with the seniors skaters.
Slowly, I began to feel like I belonged. They were encouraging. They advised. They coached. And they chased me on the track during the 27 in 5 to make me go faster, telling me to catch up with them.
I wanted to wear the Bees yellow with pride.
Becoming a Killa Bee
After so much hard work I finally did it. I made the 27 in 5 and I was overjoyed! I was choking on bile from reflux…but I was overjoyed lol. I was going to be a Bee! Along with some of my fellow Rookies! We are badasses!!!
I played my first game as a Killa Bee in March 2018.
It did not go well.
I did have a proud moment or two where I made a great hole for my jammer to get through. So proud of it that I celebrated and almost wasn't ready for the opposite jammer when she came back around. When I looked back on the footage…it hurt to watch how often I was not with my team, clueless, or just down.
I vowed to be better. I would be better. I knew the league would support me in my goals to be better.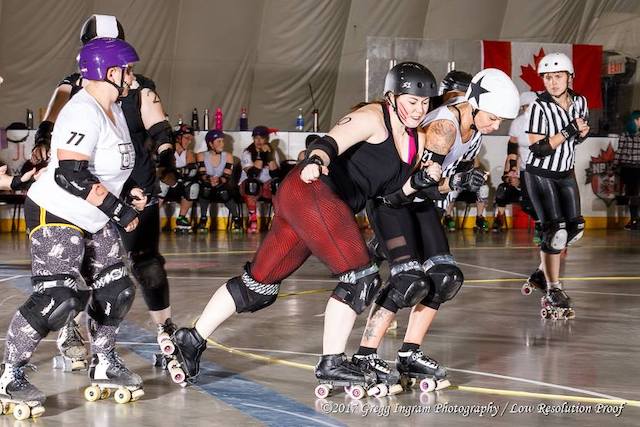 Another Setback
Then it happened again.
I broke my leg. Again. Not the same one. Now I matched on both sides.
It happened at a practice this time. The circumstances were not favorable. My grandfather had died five days beforehand, so I was grieving. I had come off a night shift, slept poorly, and was somehow functioning on three hours of sleep. I went to the practice as a way of dealing with grief, and I ignored what my body was telling me.
I fell.
I broke my leg.
Again.
I was embarrassed, mortified, struck by even more grief at the thought of my hard work and progress being lost to recovery.
I didn't go through it alone, though. I was surrounded by four or five skaters at the time it happened. Each one doing a vital part to keep me together as I tried my hardest to fall to pieces. One of them came in the ambulance with me to the hospital, stayed with me, then drove me home after.
In the weeks that followed, skaters came to visit me. Some brought gifts – metal flowers (Thanks, Curb) and a crocheted crutch cozy to carry small items (Thanks, Merci) – and some brought their company alone.
I worried about going back. Two breaks… that was a lot to handle and it had been harder the second time due to finances. I had to consider if I was going to go back or not. My heart desperately wanted to go back, but my logical brain said I couldn't.
Not the End
I kept my 'retirement' quiet. I didn't want it to be real. Unfortunately, I had to confess it to the right people, and to this day still have to explain why I won't be coming back on skates. Everyone understands, and no one pushes me. They simply say they miss seeing me on the track (and I love them for it, but it stirs a deep sadness in me to hear it).
One of my visitors encouraged me to use my love for photography to start capturing Roller Derby. Become a vital part of the league as the photographer. Initially, I had scoffed, not believing I could be good enough to become that vital. I didn't realize that she had spoken to my very soul (Jax, you soul speaker).
I went back to the practices with cameras in hand to practice and learn sports photography. Then I started coming to games on my own time with my cameras even though the league already had hired photographers.
This season, I'm proud to say that I am the preferred photographer for the Saskatoon Roller Derby League for the 2019 season.
For a short while after my second leg break, after deciding to retire my derby skates, I felt like a fraud. When people called me by my derby name I shrank away, and considered asking them to call me by my muggle name.
I don't feel that way anymore. I may not be skating, but I'm still part of the league, and I make my mark at every game.
I am Skrlet O'Feara.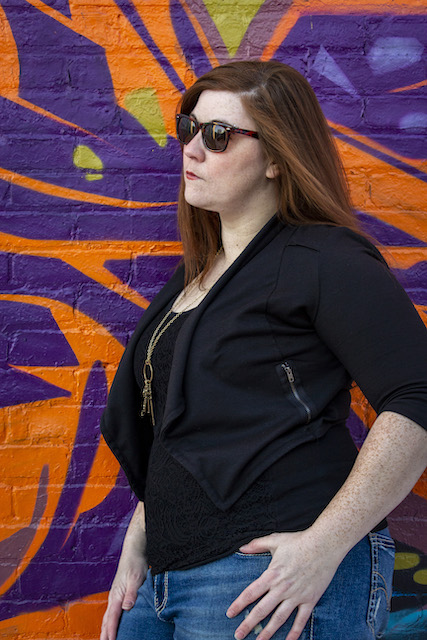 Words: Skrlet O'Feara
Photos: Skrlet O'Feara, Gregg Ingram Photography


| | |
| --- | --- |
| Posted on June 12, 2019 at 8:45 PM | |
Hello! Greetings! Welcome! This post seeks to be your introduction to the weird, the wild, and the wonderful Saskatoon Roller Derby League (SRDL) as well as our newly formed blog. If you've made it this far, you probably already understand what roller derby is, and at least an inkling of knowledge about SRDL, however if you don't, here is a brief introduction to who we are. (For those wanting to learn more about the rules of Roller Derby, please check out our website for more details). My name is Mad Macks, and I am a skater with the Saskatoon Roller Derby League. I am only just starting my third year of roller derby, which makes me feel immensely unqualified to write this blog, but the best part of our league is the fact that anyone can find a home here. I may not be the longest serving skater, but this league has become my second family, and so I can't wait to share it with you.
SRDL is a fantastic (slightly cultish) organization that seeks to provide an inclusive environment for folks in Saskatoon (and area) to learn and grow in the sport of roller derby. The league is inclusive of all genders and abilities and will never turn a skater or league member away due to identity. The league has two travel teams, our WFTDA (Women's Flat Track Derby Association) charter team the Mindfox, and our B team the Killa Bees. With this the league also maintains an active New Skater Intake Program (formerly known as Fresh Meat) and seeks to foster and develop skills of all skaters regardless of skill or ability. We have grown into a mature league with around 42 active skaters, and many league members who coach, referee, NSO, announce, and fill almost every role you could think of. 
SRDL Throughout the Years:
SRDL started in 2007 and was the first established Roller Derby league in Saskatchewan. At this time, the league had two house teams, the Bridge City Bombshells and the Hells Bells. At this time, roller derby was more showy than sporty, and players often sported fishnet stockings, belts, and wild makeup. The league continued with these house teams until 2010, when the league grew enough to have three teams, which were renamed the Multiple Convixens, the Slamazons and the Misfit Mafia. In 2010, the league also launched the Mindfox, who were named after the weird noises team members made to mess with other teams. In 2011, the league was still growing, and the Killa Bees were formed to take the role of the B level travel team. In 2013, the Mindfox won what was billed as "Canada's First Roller Derby Championship" which was held in Edmonton, Alberta. This was a huge win for the league, and really showcased how far the league had come from its early house league days. Finally, in 2018, SRDL becomes the first WFTDA sanctioned league in Saskatchewan, with the Mindfox representing the league as our charter team.
This takes us to where we are today, a successful, fun loving, inclusive, and always growing league in the Paris of the Prairies. The Mindfox continue to make gains in the WFTDA rankings, moving up 89 places in April 2019 to 206th place. The Killa Bees have been making huge progress as a developmental team as well, with excellent games played at Flat Track Fever in the Mixed Gender bracket, and a close scoring home game against the NFRD Boom. Our New Skater Intake program has roughly 12 skaters participating, and it is already shaping up to be an excellent season for the league.
What's to Come:
We may be mid way through our 2019 season, but there is so much left to come! On June 15th and 16th the League is hosting our annual tournament: Attack of the Eight Wheeled Woman. This year the tournament will have four B level teams from Alberta and Saskatchewan and will take place at the Cosmo Civic Centre. Come out for some hard-hitting action! If you want more derby, SRDL will also be hosting our second annual "Hitditch Cup", a Harry Potter themed invitational roller derby tournament. This event will take place on August 24th and will sure to be a day filled with magic and wonder. You can also check out our Facebook and Instagram pages: Saskatoon Roller Derby League, for updates on other games and events throughout the rest of the season.
Thanks for taking the time to read our league's first blog post! We hope you stick around for more posts on everything and anything roller derby.
Words: Mad Macks
/